news
The wind is catching on. The flame getting feral and the hair disheveled. Have had an exciting run playing shows in Tulum, with the highlight being @tulumtreehouse The amazing creatives there designed a mystical floating stage in water which cast mirrored reflections like a metaphor for the subconscious. Magical projections by @carlitodalceggio hung above me like an emotive chandelier. My dress, courtesy of the singular @yashvardhan_india shape shifted with every movement, like second skin. I'm loving this sentience. A huge thank you to @tulumtreehouse @fernando.del.sol @carlitodalceggio @davidames @radiotulum @gbsk for making this possible 🖤🖤
Back where I belong 🤜🏽🤛🏽
Tune in to @radiotulum to hear some live tunes and a conversation with the one and only Mandeep this evening at 6:30 PM EST 🏽🖤
Sound check done! It's going down soon @tulumtreehouse ! Come join me.
Playing at the breathtaking @tulumtreehouse tonight with an array of amazing creatives @carlitodalceggio @fernando.del.sol and more. Come find us if you're in Tulum
I'm playing a string of shows in Tulum Feb 1st through the 16th. Come have a margarita with me. Announcing dates next week
Last night I lay in bed looking up at the stars in the sky and thought to myself, where the heck is the ceiling 🙃 #wheretheheckistheceiling Photo by @davidterranova Make up by @adurasova
Got the studio together over the holidays. Are you kidding me????!!! I don't care to leave here, ever Playing in the background a work in progress #blessthismess
My live performance @nationalsawdust is up on #youtube 🏽 check it! *linkinbio A big shoutout to the fantastic ladies @caravangitane for having me Footage by the amazing @uptilldawn @jeffelstone @manuelgrecony Shiny eyes courtesy of the lovely @adurasova This is #jaan from my EP #noxanima Salt Land coming next!
Excited for the universe on the other side, in all our power, grace and vulnerabilities. Happy #2020vision lovers!
Such a sublime and intimate night @jointheuncommon curated by @neilcarty 🖤 Thanks @chriscahill65 for having me at AIHS! Photos by @composernyc 🏽 . . . . . #contra #vaporwave #synthwave #experimentalpop #analogmusic #avantpop #womeninmusic #darkambient #electronica #alternativemusic #vandanamusic #vandana #noxanima #antivenus #brooklynmusicians #vandanalive #intimategig #perfromanceart #concert #immersiveart
I've come down with a nasty chesty cough just in time for the performance at The Irish Society tonight. Guess it's finally time to honour my lip syncing chops this evening! 🤪 Photo by @jeffelstone 🖤 . . . . . #contra #vaporwave #synthwave #experimentalpop #analogmusic #avantpop #womeninmusic #darkambient #electronica #alternativemusic #vandanamusic #vandana #noxanima #antivenus #brooklynmusicians #vandanalive #intimategig #perfromanceart #concert #immersiveart
S A T U R N A L I A I'm performing at the gorgeous Irish Society NYC this Tuesday Dec 3rd as part of Saturnalia, an immersive and intimate night curated by Neil Carty @neilcarty of @jointheuncommon. The lovely Charlotte Scheffer @chascheffer will create an olfactory experience for the night, diffused throughout the rooms of The Irish Society. @arspoetica.us by Lisa Ann Markusun will debut her unique interactive artform, Astro Poetica. ~ In ancient Roman times, during the winter solstice, #saturnalia was celebrated by pagans to honor the agricultural god, Saturn. It was a festival where all citizens of society were invited to participate in abandoning social order to drink and make merry, and to throw aside the cloak of decorum — all under the watchful eye of the 'Lord of Misrule.' Space is limited, if you would like to attend, RSVP via my *linkinbio. ☄️ . . . . . . #contra #vaporwave #synthwave #experimentalpop #analogmusic #avantpop #womeninmusic #darkambient #electronica #alternativemusic #vandanamusic #vandana #noxanima #antivenus #brooklynmusicians #vandanalive #intimate #perfromanceart #concert #immersive #vandanalive
Playing @nationalsawdust was a dream. So proud to have been part of this magical programming curated by @caravangitane with the sexy ambient textures of @soundwalkcollective , the amazing live score to The Cabinet Of Dr. Caligari by Ricardo Romaneiro @composernyc , rad visuals by Brian Close @brainclosed and the humanoid from another dimension, Coen Aerts @le_directeur . Thanks to each and every one of you in the audience, I felt you deep and close to me. Videos coming soon 👁 On my way to @btrtoday for an In Studio performance! Photos by @chascheffer , @mezza.marco , @uptilldawn and @manuelgrecony 🖤
Come hear me @nationalsawdust this Thursday the 31st for what will be a sublime night of dark magic curated by @caravangitane 🌘🌒 With the incredible @soundwalkcollective and @composernyc Photo by @davidterranova Make up by @adurasova 🖤 Ticket linkinbio
🌒🌘 @caravangitane On October 31st, come dance with the seductress who whispers your name with her half angelic and half wild voice creating an otherworldly atmosphere. VANDANA will be performing live at Caravan Gitane's Halloween at National Sawdust; fusing elements of synth-wave electronica with mesmeric avant-pop, Vandana's music embraces womanhood and otherness from inside the mouth of a cave. The singer, producer and visual artist brings her process to life via slow-dripping, throbbing synths and poignant vocal melodies creating an atmosphere that's haunting and exotic. Inspired by musical pioneers like Aphex Twin, Thom Yorke and Miles Davis as well as the vibrancy of Bollywood, the gothicism of The Cure and of Fever Ray, Vandana also takes her cues from purveyors of subversion like Edgar Allan Poe, Lars Von Trier and Henry Miller. Her journey from India to London to Brooklyn has influenced her otherworldly sound which arrives steeped in the eccentricities of her ancient DNA as well as in vehicles of abstract expression and experimentation. Join us at @nationalsawdust on Oct 31st. Wild souls and new realms are preparing for your arrival. Ticket link in Bio 🖤 XXCG 8pm – The Cabinet of Dr Caligari Screening & Live Score 10pm – Party #caravangitane #halloween #nationalsawdust #Oct31st #Vandana #drCaligari @vandamner Photo by @davidterranova
This October 31st, I will be playing a Halloween Opening Ceremony @nationalsawdust , curated by the visionary ladies of @caravangitane The night will start out with a film screening of 'The Cabinet of Dr. Caligari' live scored and performed by composer and electronic artist Ricardo Romaneiro @composernyc followed by an eclectic after party inspired by thematic materials of the film featuring @soundwalkcollective ~ an ambient sound experience with mind-blowing visuals by Brian Close. Then a live concert and opening ceremony by yours truly 🏽‍♀️and a performance by Coen Aerst. A mystery guest DJ will spin the night. Artists throughout the evening will make use of National Sawdust's immersive Constellation and Spacemap sound systems by Meyer Sound. We will subvert and dissolve. See you on the quantic side. This snippet is from my performance at Caravan Gitane's 2017 Halloween Special with the amazing Ryan Casey @kaeoflux On a side note, I am returning refreshed after a serious break from our cultures primary source of information : Timelines
Playing a Benefit for Kashmir @babysallright along with the fantastic @therealkominas @djrekha @arish_ish @zerobridgeband and special guests on the 22nd of Sept. This will be a daytime event I'm honoured to be part of. Don't wait to get those tickets 🏽 "Amid these vulgar celebrations the loudest sound, however, is the deathly silence from Kashmir's patrolled, barricaded streets and its approximately seven million caged, humiliated people, stitched down by razor wire, spied on by drones, living under a complete communications blackout. That in this age of information, a government can so easily cut off a whole population from the rest of the world for days at a time, says something serious about the times we are heading toward." ~ #arundhatiroy for @nytimes #kashmirbleeds #standforkashmir
Today marks the 33rd day since I released Contra last month! I want to offer you a free download of the entire EP from my #bandcamp page until 12PM EST this Thursday, no strings attached. You can download it for absolutely nothing in return but I would treasure️either a repost to your IG story or a few personal words about the EP on my Bandcamp page once you've downloaded it! There's also the option to subscribe to my mailing list if you'd like to stay updated with all Vandana related news ; ) Everything sacred is lost without reverence, here in lies the expression which frees me and I share it with a lot of gratitude for your support 🖤 Download *linkinbio
Feeling happy over a small coup today. My music has charted at #26 of the top 200 on the NACC World Charts this week – not huge but hey not bad. #1 is @kokokomusic , one of my favourite bands out there right now you should absolutely listen to! Anddd listen to some of mine too ; ) *linkinbio A big thank you to my supporters for showing me your love, you make this journey pretty cool 🏽🖤 I'm playing a Benefit for Kashmir on the 22nd of September @babysallright along with the amazing @therealkominas @djrekha @arish_ish . Very excited for this, mark your calendars!
Tune into @kpfthouston 90.1 between 4 and 5 pm CDT today for a live interview and tunes from my new EP Contra 🖤🤞🏽
We see posting about the fires as a virtue — that we're actively advocating for a cause on our social media. Charity feels meaningful, or at the very least, it holds the promise of an effectively noncommittal solution we can partake in from thousands of miles away. Posting about one's support for a cause or charity requires almost no commitment and as little effort as a signature for a petition or a few donated dollars. IT'S IMPOSSIBLE TO IGNORE POLITICS AND THINK THAT YOU CAN DONATE MONEY TO ADDRESS CLIMATE CHANGE OR SAVE THE AMAZON / EARTH I recycle religiously, I have been a vegetarian my whole life, I consume a lot less than I used to but beyond that, there are things I can do to be actively involved but am too wrapped up in the performance of my own life to take the steps which require leaving my desk. What are some ideas you have to effect change? Sent from my iPhone #wakeup #brazil #amazonrainforestemergency #prayforamazonia #climatechangeisreal #eatlessmeat
The Amazon Basin and other large swaths of forests are literally our life force. Without it, we'd have already been extinct. Of the countries that lost the most forest since 2001, four are located in South America. The World Resources Institute, which tracks global forest cover, reports deforestation is at it's worst in Brazil, Indonesia, Colombia, Peru, and Bolivia. In Brazil, there was a sharp rise in deforestation during July, which has been followed by extensive burning in August. Local newspapers say farmers in some regions are organising "fire days" to take advantage of weaker enforcement by the authorities. WE ARE ON A SUICIDE PATH. We have to work more to deserve to be on this earth of ours. It is our collective responsibility to protect and help save the planet. Besides making conscious life style changes, one of the other easier ways to help is by voting the right people into office. If you get the chance to, please watch One Strange Rock on Netflix. It's a fascinating and stunning eye opener about our beautiful planet.
Had an absolute blast last Saturday @lprnyc 🖤 Thanks @aroojaftabmusic for organizing such a beautiful night of music for the first installment of #sauve . Kudos to the amazing musicians on the bill! To the audience who was there, thanks for your sublime energy which I felt the whole way. Here's a bite of my opening track Salt Land which I mixed in with 'Aizan' from my latest EP Contra. Full video *linkinbio Photos by my dear friend @jeffelstone
Getting ready for #sauve @lprnyc tomorrow! Hope you can make it to this amazing line up curated by the lovely @aroojaftabmusic Sets by @noiagisela @aroojaftab @rafiqbhatia @browniebonbon77 Nicole @hundredwaters Jeremy @chromesparks @gyanriley @muchgrey And more 🏽 Doors are at 6pm. You don't want to miss this ️
It may be that our cosmic curiosity… is a genetically-encoded force that we illuminate when we look up and wonder. ~ Neil deGrasse Tyson Visiting the mn tonight. Photo by Andres Burgos #everythingiseverything #fullmooninaquarius #sturgeonmoon #quantumphysics #vandamner #vandanamusic
Resign yourself to the influence of the earth 🏽📸by @manuelgrecony
Thank you @abbeyroadstudios for the shout out 🏽🖤🏽 and for including 'Ahsa' from Contra on your #abbeyroadcuts Spotify playlist! Big love for Christian Wright and @andrewtmackay @bohemiajunction for doing such an amazing job mastering it
The desert is a hunter. Serpentine hiss of slithering sand. Watch out for a new music video with @jennifertzarcreative @reginaharris 🖤 📸 by @manuelgrecony
Contra has arrived. Streaming on all platforms. *linkinbio Contra comprises of re-imaginations of Indian and Pakistani songs from the 70's, 80's and 90's. My aim has been to re-discover these songs which I grew up listening to as an avant-pop, experimental expression. Going back to my roots and connecting with it musically delivered some sort of cosmic liberation. This has been a sweet, powerful and generous process, one I am proud of. Creation is a mystery I somewhat recognize, and there are others which can't be dominated. I am sharing my playground with you, now in the ether, existing as a collective, not solitary. I hope you will love it. Playing here is Aizan, a re-work of the gorgeous Nazia Hasan's Boom Boom, a sublime and haunting disco track. A humble thank you from my heart to all the brilliant creatives involved in the making of this ~ Joshua Druckman @outliermusic , Christian Wright @abbeyroadstudios , @andrewtmackay @bohemiajunction , @threeasfour , @mazmith , @dan_smith_music , Jennifer Tzar, Regina Harris, @fadimoris @manuelgrecony . YOU ARE RAD.
There is life on Mars.
Ahsila from the EP Contra is now streaming on Spotify *linkinbio I want to know how this song makes you feel ️ Mixed by Joshua Druckman @outliermusic Mastered by Christian Wright @abbeyroadstudios ~ Mastering co-ordinator @andrewtmackay @bohemiajunction @mazmith does additional fuzz magic on his Prophet
Location scouting in #wadirum for new #musicvideo with @jennifertzarcreative & @reginaharris
To witches and shadow walkers. Thanks for having me @popmatters 🏽 Full video link*inbio "The otherworldly tone of Vandana's video seems to border on the supernatural. Slowly-moving figures climb rocks and perform sinuous dances against an enchantingly barren backdrop of desert canyons, while Vandana's electrifying voice echoes, slowly climbing higher and higher in a free-flowing rendition of a disco classic. "Ahsa" shows a creative mind simultaneously on the cutting edge of electropop and inspired by past decades of Indian and Pakistani sounds. Vandana draws on both the old and the new for this video and her upcoming EP Contra. Sleek "Ahsa" demonstrates modern sensibilities informed by the past, but facing the future, with space-age aesthetics to boot."
https://scontent.cdninstagram.com/v/t50.2886-16/68797608_430808420858241_7868276527450670601_n.mp4?_nc_ht=scontent.cdninstagram.com&oe=5D5867C5&oh=5d793e282f33beb3ed061eee93568774
New EP coming soon. Ears and hearts are open 🏼
https://scontent.cdninstagram.com/v/t50.2886-16/37169188_1695911223863858_5427982010313438051_n.mp4?_nc_ht=scontent.cdninstagram.com&oe=5D58624C&oh=251a29a982104df3647059f9fbbc9f11
Spoke to the beautifully curated @lvl3official about making music, my upcoming EP Contra, stealing plant cuttings and more. Thank you for having me LVL3 🖤 *linkinbio And️️ playing new tunes August 17th @lprnyc as part of the #sauve Festival alongside an amazing line up curated by @aroojaftabmusic ! Get your tix! Photo by Jennifer Tzar. Make up by Regina Harris. Mirror suit by @threeasfour
I grew up listening to #ZoobieZoobie from the Bollywood film Dance Dance and my emotions are still jammed on it. So I'm making my own dark-wave-y version. Here's another little bite of what's coming.
An ode to the feminine. An ode to making room for ourselves. NEW VIDEO NOW PLAYING ️ *linkinbio Ahsa is also streaming on Spotify ️ Thank you to the amazing Jennifer Tzar, Regina Harris, @threeasfour @fadimoris @manuelgrecony Joshua Druckman @outliermusic @andrewtmackay Christian Wright @abbeyroadstudios @aviavi @mazmith @dan_smith_music 🖤 for your heart-ful creativity and faith in this project.
Sound bite from upcoming collection of music honoring my roots #ZOOBIEZOOBIE
My video for #Ahsa #raatbaaki taken from the upcoming album #contra just premiered via @popmatters 🏽 I'm so excited to share this with you. With love from me to you 🖤 I hope you love it! *linkinbio Directed by Jennifer Tzar. Make up and shadow muse played by Regina Harris. Magical wardrobe generous courtesy of @threeasfour Love and thanks to @fadimoris @manuelgrecony for their kindness and hard work ️ . . . . #ashabhosle #avantgarde #experimentalmusic #experimentalpop #vandanamusic #synthwave #womeninmusic #darkwave #vandamner #newvideotoday #contra #ahsa #raatbaaki #amitabhbachchan
Magic Hour
I am so excited to share this with you 🏼Video for AHSA [Raat Baaki] taken from my upcoming record Contra is premiering on the 9th of July. Tune in to my YouTube channel for updates. *linkinbio Directed by Jennifer Tzar. Make up and shadow muse played by Regina Harris. Magical wardrobe generous courtesy of the one and only @threeasfour . . . . . #homegrown #avantgarde #experimentalmusic #experimentalpop #vandanamusic #synthwave #womeninmusic #darkwave #vandamner
https://scontent.cdninstagram.com/v/t50.2886-16/66143127_107995970367988_709511901905663276_n.mp4?_nc_ht=scontent.cdninstagram.com&oe=5D584808&oh=a484851d080ff872e16dc0b29da43ba7
We always want to see what is hidden by what we see. #magritte
Video for AHSA [Raat Baaki] from my upcoming record Contra is premiering on July 9th. ️ Subscribe to my YouTube channel *linkinbio for a ping when the video goes live. Directed by Jennifer Tzar. Make up and shadow muse played by Regina Harris. Scroll to find bites of the original Raat Baaki from the 1982 film Namak Halal, sung by Asha Bhosle, performed by the lovely Parveen Babi.
Epic night @caravangitane. Photo by the lovely @nadiakaufhold
M🌘🌘Ns and stars later, I give you Contra. First video premiering on July 8th 👁👁 Photo by Jennifer Tzar. Image by me.
With love from me to you, 60's and 70's Indian and Pakistani music made dark-wave-y, fuzzy and wistful ~ coming your way this fall. My roots are giving birth to a new and voluptuous me. Let me subvert you. ☯
Another one from the series my dear friend @jeffelstone shot last year. Might share another next but I promise to make it the last one for a while 🙃 Make up by Regina Harris ️️️
Disco, disco mystic Disco, disco mystic Disco, disco mystic … repeat ~ Lou Reed
I've been having a blast tracking and mixing at @outliermusic . This place is epic. Joshua is a supremely talented engineer and mixer, so dedicated and full of love for music. Thank you from my heart Josh, for the magnificent joy of collaborating with you and for being a super human all around We're soon coming to a close and I can't wait to share my new Contra world with you. Been meaning to share this photo taken by my dear friend and amazing photographer @jeffelstone since our do whatever we want shoot from last year. It's still is one of my favourite shoots to date because we had so much fun and hit a strong bond ever since. Make up by Regina Harris ️ Prayer hands because I have a lot to be thankful for and I love this photo. Rings @antoniamiletto @pitangorings
Chaos, leave me never. Keep me wild And keep me free So that brokenness will be, The only beauty The world will see. ~ R.M. Drake Photo by @davidterranova
This room sounds sooo warm and fuzzy. Josh @outliermusic Day 2 of mixing, #zoobie here from upcoming record #contra
I pass and I stay, like the Universe. ~ Alberto Caeiro
Luckiest gal to have spent the last two weeks drenching my reeds in this honey courtesy of @outliermusic 🏽 Mixing the new record at the spectacular #retreatrecording studio #outlierinn next week. Wooooo
I have named you queen. There are taller than you, taller. There are purer than you, purer. There are lovelier than you, lovelier. But you are the queen. ~ Pablo Neruda Jaan from Nox Anima. Full song *Link In Bio*
Summoning this moody, wintry waltz this am. One of my @thomyorke favourites #suspirium
You can never get away from where you've been. ~ Margaret Atwood Raven Black from Nox Anima. Full song *Link In Bio*
This space has been silent. New album Contra arriving August '19
I want to do with you what spring does with cherry trees. ~ Pablo Neruda Arp from Anti Venus LP. Full song *Link In Bio*
Here's to strong, compassionate women. May we know them. May we be them. May we raise them. The future is together ladies ‍️‍ I love you so damn much.
magic tricks with🏽team @jeffelstone @reginaharris
I think I can fly 🕊 Second skin silk dress by @yashvardhan_india #belight
Love affair with Rajputana. Photo by my gorgeous brother @yashvardhan_india
Riding around in the inimitable black and yellow taxis of this great metropolis. Everything in Bombay is as fascinating and technicoloured as it is fraught with staggering contradictions. There's a narrative everywhere you look, a narrative of hope and courage. Photo by @devanshiag 🏽
I'm home #india
Love is like the wind and it blows when it comes. Nusrat Fateh Ali Khan's Kinna Sona Tenu from my upcoming India x Pakistan inspired record.
Don't forget to pat and pet yourself this Sunday. Life isn't easy, everybody has their share of strain to go through, we gotta live, give and be graceful, and first through self love, as indulgent as that may seem sometimes. Zoobie Zoobie from my upcoming India x Pakistan inspired record.
A new moon teaches gradualness and deliberation and how one gives birth to oneself slowly. Patience with small details makes perfect a large work, like the universe. ~ #rumi A #chiaroscuro exploration of Ustad Nusrat Fateh Ali Khan's Kinna Sona Tenu from my upcoming India x Pakistan inspired project.
The wind is your fan. #punintended
It's my birthday and I'm feeling every bit of joy and awe today. #innorushtowardsthefuture
Wishing for us all the utmost magnificence, peace, love and creativity this coming cycle, like this 2700 year old ancient beauty. I love you
Good things come to those who sit still. In a different kind of studio for #artist @bernardosiciliano 🤘🏽
Just chillin and trying to look good. Photo by @siouxnesi for Brooklyn Street Style @abramsbooks
Chin up, otherwise you are just looking at your own boobs all day. 🙃 Photo by the lovely @siouxnesi for Brooklyn Street Style @abramsbooks
Sending healing love and compassion out West for the safety of human beings, animals, plants and forests. Please unite in prayer and generosity to help victims and displaced beings return home, soon and safely. Unfortunately the horrible and idiot president of the United States is still in denial about the pressing and devastating effects of global warming, but we can do our bit, consciously and aware that every little change to our daily lifestyle and our choices makes a difference to the overall health and well being of our planet, this beautiful land we call home but every so often disrespect and forget to look after. Her's is a beating, vital, ever giving heart which supports us daily, let's give back to her, in any which way possible. But LET'S GIVE. Every nation has it's own crisis, it is our duty as citizens and inhabitants of our own to care for it. We are responsible for everything happening now and in the future, so let's make even a small effort, every single day. Sending money is almost always the most efficient way to help in a disaster, according to the Center for International Disaster Information. If volunteers on the ground end up with a mountain of donated goods, they'll have to spend time sorting through them rather than buying exactly what's needed. The wildfire has left 31 people dead and the 150,000 displaced could be months away from returning home. No amount is too little, if you can, please donate to The California Community Foundation Wildfire Relief Fund @calfund and The Humane Society of Ventura County is accepting animals evacuating from the Hill and Woolsey fires, and they're also looking for support. Donation link in my bio. #plantmoretrees #consumeless #reuse #loveeachother #helpeachother #careforourplanet We will be rewarded.
When we long for life without difficulties, remind us that oaks grow strong in contrary winds and diamonds are made under pressure. #petermarshall #newmusic #fleeting #lifeistoday #vandanamusic
Germinating a seed #toloveandtohurt
Another one from the @imagista QnA feature on my upcoming album. Photography by @jennifertzarcreative Make-up by @reginaharris Ear cuff by @houseofmalakai ️thanks @fadimoris & @manuelgrecony 🖤
Did some conversing with @imagista about my upcoming album ️thanks @jennifertzarcreative and @reginaharris for a fun and vivid morning in the Wadi Rum desert. Thanks @imagista and @katinagee for the lovely QnA feature! Nose pin by @manisharorafashion for @amrapalijewels Full interview – theimagista.com
#boomboom Sunday mood. Work in progress ️
Every day above earth is a good day. ~ Ernest Hemingway 📸by @manuelgrecony
Spot the difference game 🙃
Hi!! I AM BACK. I shot a video and album art in Jordan, got arrested for witchcraft and devil worshipping there, wrote a bunch of new music for my upcoming album in London, my sister got happily married, and I enjoyed being a beach bum for 10 days in Sicily. Those were the good bits and this is a confession. This is my first post in almost a month and the anxiety and duress I have been feeling over my #InstagramFast is a bit hilarious but equally dumbing and horrifying. Working on a single post sometimes takes 2-3 hours out of my day, from choosing which photo to post to coming up with a good caption, to making sure it stays true to my mood and story, to adding all the relevant tags and timing it perfectly. ALL of this drains me, especially when I am 'away'. I absolutely fucking love sharing my work but the pressure and fear of not doing so feels very real, of course it largely comes from within me, my own bulldozer brain telling me to make contact for fear of ghosting my followers, very much feels like I'm losing my grip over reality, my grip on priorities. And yet, I just can't stay away. What matters most to me is being creative, with my music and my art, and Instagram has certainly allowed me to hone my skills, and even further, be vulnerable and expressive with my voice, even shameless and care-free, but spending so much time obsessing over a photo or caption or just the fear of not even having one trashes my priorities a bit. The pure thrill which comes with staring at beauty without taking a photo of it is riveting and one which social media cannot compete with. Well, I don't have much more or anything moving to say right now, I will be mulling this over and would love to hear if you fancy a similar suspicion. p.s. I spent 2 hours on this post but it totally feels worth it.
Her source is within.
Awakening is not a thing. It is not a goal, not a concept. It is not something to be attained. It is a metamorphosis. If the caterpillar thinks about the butterfly it is to become, saying 'And then I shall have wings and antennae,' there will never be a butterfly. The caterpillar must accept its own disappearance in its transformation. When the marvelous butterfly takes wing, nothing of the caterpillar remains. ~ Alejandro Jodorowsky 🐆 I WELCOME THIS YEAR!!! #vandanamusic #vandamner #antivenus #noxanima #vandanajain
#mood @caravangitane Halloween 2017. Dark night version of Vicious from my record Nox Anima. With @kaeoflux
Nox Anima Temple.
Halloween night @caravangitane with @kaeoflux . All of this life is a vast playground ️Thanks to all my friends and lovers for a great time ️ 📸 by @uldericomicara @wuwa13 @missanushka
Post show happiness. Thank you you crazy beautiful @caravangitane girls, last night was magical. 🐆 Snippets coming soon ️
This Friday, October 27th, I am performing decked out with a broken leg at an electric night curated by the magnetic female collective @caravangitane . Together, we will be in the other world, chimerical. DM me for discount tickets. 🐆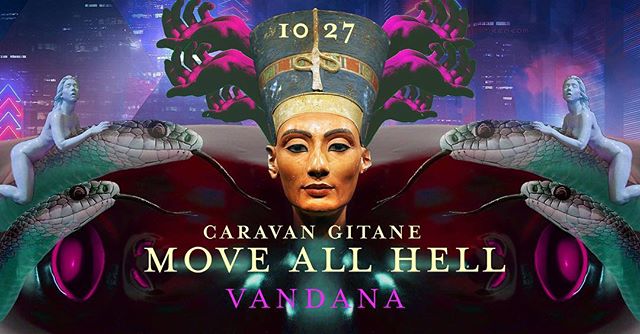 Every jungle needs a delicate beast. #vandana
Anchored to the positive. Not the crutches 🙃 #myinjuryisempowering #selflove #takecharge #beautifullybroken #strongwomen #inspirationoftheday #inspired #vandanamusician
It's been 14 days now since I broke my right fibula and damaged a bunch of ligaments. The first week felt like a month, time didn't make the slightest movement. After a few days of getting past the anger and the seeming needlessness of my injury, came true appreciation for the message to slow down and pay attention to what's most important. I know why this was brought to me. Beautiful, deep, intense lesson, and a long recovery ahead. I've been writing, drawing and painting, making melodies on my dad's Casio VL Tone, reading and meditating. It's a liberation of sorts from the prison of the rational, constantly needing to prove and do something important construct. I'm thankful for it. Our bodies are magic machines that we take for granted. Never has walking seemed like a gift. This is my current reality dance. In which no literal dancing is involved but all sorts of other mysteries are waiting for me to go find them and perhaps I'll invent some of my own too.
Not vexed, just in a zone. Stay tuned for a video of our performance @threesbrewing ~ with @vandamner @aroojaftabmusic @cha.greve
Females Rule. Last night @threesbrewing @vandamner @aroojaftab @cha.greve Video coming soon. #vandamner #antivenus #vandanamusic #noxanima #experimentalmusic #electronicmusic #sufimusic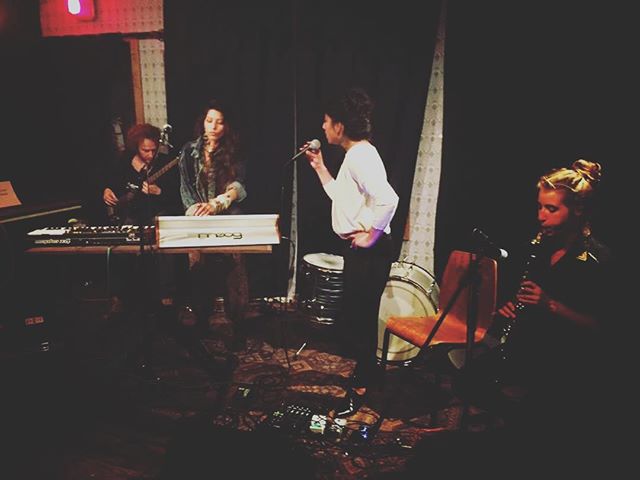 Playing an impromptu set with @aroojaftabmusic this Monday at @threesbrewing Swing by for fiery synth and vocal magic. #vandanamusic #vandamner #antivenus #noxanima #aroojaftab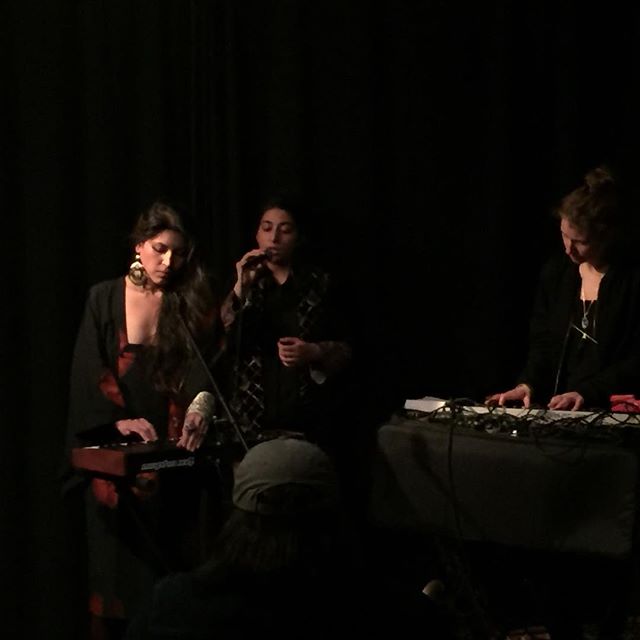 "Devine Feminine energy has come through the veil to awaken humanity to its true power in love." Well said @mysticmamma This is a chance for all of us to wake up to our unity , and our responsibilities to each other, to Mother Earth and to the future. #powerful #solareclipse
My shield. My hair.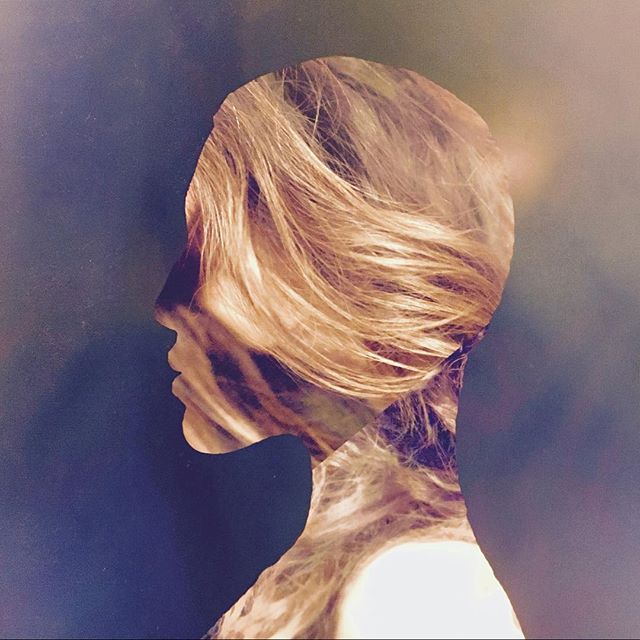 India @vandamner
It is only in the world of objects that we have time and space and selves. ~ T.S. Elliot @vandamner Photo by Andres Burgos.
I don't care what you think, I'm wearing a black padded bra. Upcoming album bringing you soon. @vandamner
Dream work with a knock out team. Upcoming album Nox Anima album cover shoot. @davidterranova @adurasova @princessefeline @vandamner
Enter the center of the fire. @vandamner
Putting on all my bangles for tonight's Brooklyn Raga Massive. See you there! @vandamner
After-Burn chill in Sequoia Part II @vandamner
After Burn chill in Sequoia. @vandamner
In @nancystellasoto kimono for Brooklyn Street Style @abramsbooks
Brooklyn Street Style @abramsbooks @bkstyle_sioux thumbs up for beautifully printed matter and thank you. @vandamner
Big love to Brooklyn Street Style @abramsbooks for including me in their gorgeously printed No Rules Guide to Fashion alongside some pretty wicked ladies. @siouxnesi what an amazing photographer you are girl! @ashtonmichaella harem pants, @laced_with_romance kimono. @vandamner
Ghost town of great vintage cars. @vandamner
Almost at the land of strange fruits. @vandamner
PMS remedy : keep calm and love thy social super ego. @vandamner
Another outtake by the lovely @siouxnesi for @bkstylebook @abramsbooks coming this fall・・・
 @vandamner @bkstylebook @abramsbooks ️
Thanks to the lovely @siouxnesi for the gorgeous out takes for @bkstylebook coming this fall・・・
Brooklyn Style Beauty @vandamner @bkstylebook @abramsbooks @nancystellasoto kimono duh
You have no idea how hard I've looked for a gift to bring You. Nothing seemed right. What's the point of brining gold to the gold mine, or water to the ocean. Everything I came up with was like taking spices to the Orient. It's no good giving my heart and my soul because you already have these. So I've brought you a mirror. Look at yourself and remember me. ~ Rumi @vandamner
To all our gorgeous NYC creatures who danced with us! @miskiuz for the rad photos. With @kaeoflux @mreliasmeister @vandamner
Raven black. @vandamner
What a fantastic night this was!!! Thanks for making it mad fun, we love fuzzy and warm @nublunyc I love my incredible musicians @kaeoflux @meister_elias Yusuke Yamamoto and I love you all > @vandamner
I'm playing this Thursday at the amazing Nublu, in celebration of its 13th Anniversary. Join me homies! Playing with the fantastic @kaeoflux @meister_elias @vandamner
Playing Nublu, Nyc JUNE 25th! And just for today, a free download of Ecstatic from Anti Venus! @vandamner
I& afraid that if you look at a thing long enough, it loses all of it& meaning. ~Andy Warhol @vandamner
Smoked kohl. Squirt it in the eye. @vandamner
Twelve nights in the orient. @vandamner
Email me at vandana@vandanajain.com to get a free download of my full length Anti Venus. @vandamner
The secret room. Where stillness is a virtue. @vandamner
Come, see real flowers of this painful world. ~Bashō @vandamner
It& time to shed your winter skin. @vandamner
In the spring, at the end of the day, you should smell like dirt. ~Margaret Atwood @vandamner
The mind is a watery space today. @vandamner
Tiger, tiger, burning bright In the forests of the night, what immortal hand or eye could frame thy fearful symmetry? ~ William Blake @vandamner
Your wires cut my circuitry. Perfect and rhythmic. @vandamner
www.vandanajain.com @vandamner
Do join those who drink too much wine on Easter Sunday. @vandamner
Shoot myself in the face and edit the pieces. @vandamner
Kindness is the greatest virtue. And those without it are missing out on the beautifullest feeling.
Come. My Rococo lover. Until ashes ashes. @vandamner
Selfie a day @vandamner
Selfie a day @vandamner
I'm infinite. Look around the eyes. @vandamner #vandanajain #antivenus #vandamner #opart #opticalillusion #illusion #glitchart #art #albumart
Anti Venus Party Dec. 6th 2013
We are so excited for the ANTI VENUS PARTY this December 6th at La Sala, Cantina Royal in Williamsburg.
Starting off the night at 10 P.M. with an incredible hour long DJ set by Kodomo, then to our own live act with Yusuke Yamamoto, Ryan Casey, myself and a very special appearance by Federico Aubele on guitar. A serious dance party follows with my favourite Modest P.
We have created beautiful video projections spanning across three high ceiling walls in collaboration with the fantastic Andres Burgos . Andres and I created this short promo video for the song Ecstatic from Anti Venus and are working on a video for Mask for which we had a test shoot day yesterday, here are a couple of out-takes from the shoot.
This is a strictly RSVP only party, send us an email at rsvp@vandanajain.com
Gorgeous night, I can't wait to party with you!
xVandana
Anti Venus BlackBook Exclusive
BlackBook Magazine premiered this amazing write up and exclusive stream of my debut full length ANTI VENUS out tomorrow, well, in a few minutes!
Tweet the premiere tagging @vandamner or share it on Facebook tagging Vandana Jain for your chance win a unique download code to your copy of the entire album!
I hope you love it.
x
Get your free copy of the debut full length ANTI VENUS!
I can't contain my excitement for the launch of ANTI VENUS this tuesday Oct. 29th!
I talked about my obsession for hearing albums in their entirety on the Beautiful Savage feature QnA and have taken this opportunity to give away digital copies with the complete artwork as well as a beautiful short promo video made by the amazing Andres Burgos to the first 50 of you who tweet or share a few words about the album on Facebook or on Twitter, just make sure to tag @Vandamner on twitter and Vandana Jain on facebook. As soon as I receive your tag, you will get a link and a unique download code to your copy of Anti Venus.
I truly appreciate all the support I have been getting from you all, it means that everyday I get to wake up excited to make batter art. Thank you!
X Vandana
Your Tote + My Tote
Hello beebeez! Welcome to my freshly updated website now visible on all your mobile bling, thanks to Joseph Mueller for making this happen, as well as the creative additions!
I want to start off by talking about something I'm crazy mad about, the ANTI VENUS album art created by MYSELF and the lovely and talented MAY LIN LE GOFF. She is exhibiting her new works at Site/109 on the 7th of November, you need to check her out.
Here are the pieces from the album art.

Now let's talk about the doubly mentioned tote in this post. Here's your chance to have your artwork printed on a limited edition ANTI VENUS inspired tote bag! Upload your artwork tagging @Vandamner on twitter OR Vandana Jain on facebook and the most precious piece will be printed along with x VANDANA JAIN and promoted as special merchandize.
Here is some inspiration to get you started.
GET TO WORK NOW.

Enjoy, talk soon.
X Vandana