news
Her source is within.
Awakening is not a thing. It is not a goal, not a concept. It is not something to be attained. It is a metamorphosis. If the caterpillar thinks about the butterfly it is to become, saying 'And then I shall have wings and antennae,' there will never be a butterfly. The caterpillar must accept its own disappearance in its transformation. When the marvelous butterfly takes wing, nothing of the caterpillar remains. ~ Alejandro Jodorowsky 🐆 I WELCOME THIS YEAR!!! #vandanamusic #vandamner #antivenus #noxanima #vandanajain
#mood @caravangitane Halloween 2017. Dark night version of Vicious from my record Nox Anima. With @kaeoflux
Nox Anima Temple.
Halloween night @caravangitane with @kaeoflux . All of this life is a vast playground ️Thanks to all my friends and lovers for a great time ️ 📸 by @uldericomicara @wuwa13 @missanushka
Post show happiness. Thank you you crazy beautiful @caravangitane girls, last night was magical. 🐆 Snippets coming soon ️
This Friday, October 27th, I am performing decked out with a broken leg at an electric night curated by the magnetic female collective @caravangitane . Together, we will be in the other world, chimerical. DM me for discount tickets. 🐆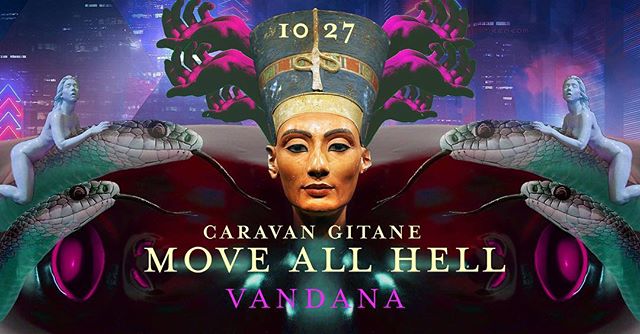 Every jungle needs a delicate beast. #vandana
Anchored to the positive. Not the crutches 🙃 #myinjuryisempowering #selflove #takecharge #beautifullybroken #strongwomen #inspirationoftheday #inspired #vandanamusician
It's been 14 days now since I broke my right fibula and damaged a bunch of ligaments. The first week felt like a month, time didn't make the slightest movement. After a few days of getting past the anger and the seeming needlessness of my injury, came true appreciation for the message to slow down and pay attention to what's most important. I know why this was brought to me. Beautiful, deep, intense lesson, and a long recovery ahead. I've been writing, drawing and painting, making melodies on my dad's Casio VL Tone, reading and meditating. It's a liberation of sorts from the prison of the rational, constantly needing to prove and do something important construct. I'm thankful for it. Our bodies are magic machines that we take for granted. Never has walking seemed like a gift. This is my current reality dance. In which no literal dancing is involved but all sorts of other mysteries are waiting for me to go find them and perhaps I'll invent some of my own too.
Not vexed, just in a zone. Stay tuned for a video of our performance @threesbrewing ~ with @vandamner @aroojaftabmusic @cha.greve
Females Rule. Last night @threesbrewing @vandamner @aroojaftab @cha.greve Video coming soon. #vandamner #antivenus #vandanamusic #noxanima #experimentalmusic #electronicmusic #sufimusic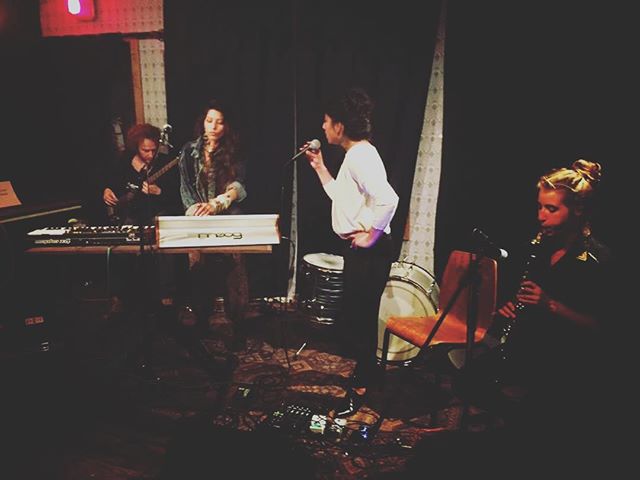 Playing an impromptu set with @aroojaftabmusic this Monday at @threesbrewing Swing by for fiery synth and vocal magic. #vandanamusic #vandamner #antivenus #noxanima #aroojaftab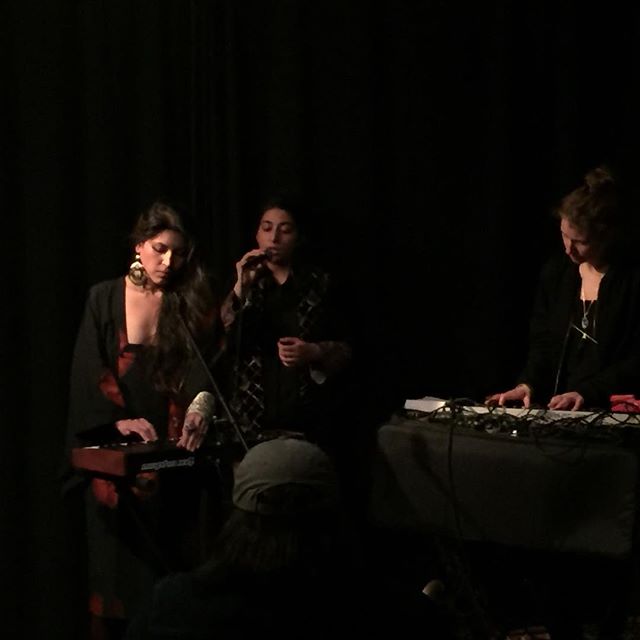 "Devine Feminine energy has come through the veil to awaken humanity to its true power in love." Well said @mysticmamma This is a chance for all of us to wake up to our unity , and our responsibilities to each other, to Mother Earth and to the future. #powerful #solareclipse
My shield. My hair.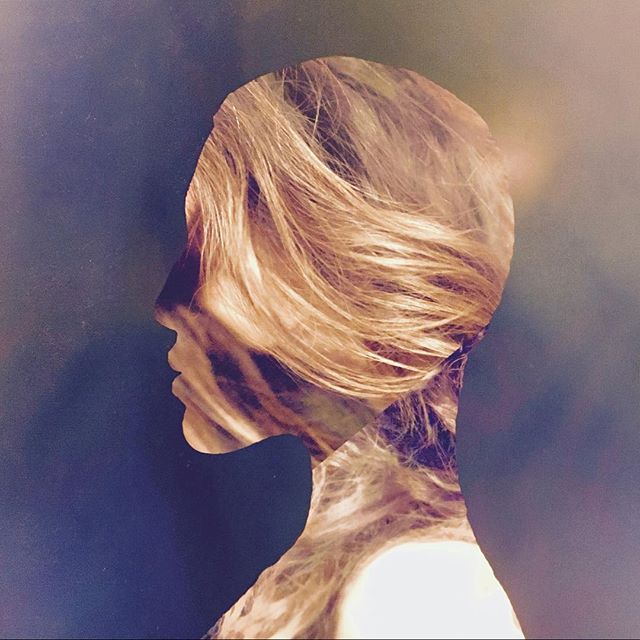 India @vandamner
It is only in the world of objects that we have time and space and selves. ~ T.S. Elliot @vandamner Photo by Andres Burgos.
I don't care what you think, I'm wearing a black padded bra. Upcoming album bringing you soon. @vandamner
Dream work with a knock out team. Upcoming album Nox Anima album cover shoot. @davidterranova @adurasova @princessefeline @vandamner
Enter the center of the fire. @vandamner
Putting on all my bangles for tonight's Brooklyn Raga Massive. See you there! @vandamner
After-Burn chill in Sequoia Part II @vandamner
After Burn chill in Sequoia. @vandamner
In @nancystellasoto kimono for Brooklyn Street Style @abramsbooks
Brooklyn Street Style @abramsbooks @bkstyle_sioux thumbs up for beautifully printed matter and thank you. @vandamner
Big love to Brooklyn Street Style @abramsbooks for including me in their gorgeously printed No Rules Guide to Fashion alongside some pretty wicked ladies. @siouxnesi what an amazing photographer you are girl! @ashtonmichaella harem pants, @laced_with_romance kimono. @vandamner
Ghost town of great vintage cars. @vandamner
Almost at the land of strange fruits. @vandamner
PMS remedy : keep calm and love thy social super ego. @vandamner
Another outtake by the lovely @siouxnesi for @bkstylebook @abramsbooks coming this fall・・・
 @vandamner @bkstylebook @abramsbooks ️
Thanks to the lovely @siouxnesi for the gorgeous out takes for @bkstylebook coming this fall・・・
Brooklyn Style Beauty @vandamner @bkstylebook @abramsbooks @nancystellasoto kimono duh
You have no idea how hard I've looked for a gift to bring You. Nothing seemed right. What's the point of brining gold to the gold mine, or water to the ocean. Everything I came up with was like taking spices to the Orient. It's no good giving my heart and my soul because you already have these. So I've brought you a mirror. Look at yourself and remember me. ~ Rumi @vandamner
To all our gorgeous NYC creatures who danced with us! @miskiuz for the rad photos. With @kaeoflux @mreliasmeister @vandamner
Raven black. @vandamner
What a fantastic night this was!!! Thanks for making it mad fun, we love fuzzy and warm @nublunyc I love my incredible musicians @kaeoflux @meister_elias Yusuke Yamamoto and I love you all > @vandamner
I'm playing this Thursday at the amazing Nublu, in celebration of its 13th Anniversary. Join me homies! Playing with the fantastic @kaeoflux @meister_elias @vandamner
Playing Nublu, Nyc JUNE 25th! And just for today, a free download of Ecstatic from Anti Venus! @vandamner
I& afraid that if you look at a thing long enough, it loses all of it& meaning. ~Andy Warhol @vandamner
Smoked kohl. Squirt it in the eye. @vandamner
Twelve nights in the orient. @vandamner
Email me at vandana@vandanajain.com to get a free download of my full length Anti Venus. @vandamner
The secret room. Where stillness is a virtue. @vandamner
Come, see real flowers of this painful world. ~Bashō @vandamner
It& time to shed your winter skin. @vandamner
In the spring, at the end of the day, you should smell like dirt. ~Margaret Atwood @vandamner
The mind is a watery space today. @vandamner
Tiger, tiger, burning bright In the forests of the night, what immortal hand or eye could frame thy fearful symmetry? ~ William Blake @vandamner
Your wires cut my circuitry. Perfect and rhythmic. @vandamner
www.vandanajain.com @vandamner
Do join those who drink too much wine on Easter Sunday. @vandamner
Shoot myself in the face and edit the pieces. @vandamner
Kindness is the greatest virtue. And those without it are missing out on the beautifullest feeling.
Come. My Rococo lover. Until ashes ashes. @vandamner
Selfie a day @vandamner
Selfie a day @vandamner
I'm infinite. Look around the eyes. @vandamner #vandanajain #antivenus #vandamner #opart #opticalillusion #illusion #glitchart #art #albumart
Anti Venus Party Dec. 6th 2013
We are so excited for the ANTI VENUS PARTY this December 6th at La Sala, Cantina Royal in Williamsburg.
Starting off the night at 10 P.M. with an incredible hour long DJ set by Kodomo, then to our own live act with Yusuke Yamamoto, Ryan Casey, myself and a very special appearance by Federico Aubele on guitar. A serious dance party follows with my favourite Modest P.
We have created beautiful video projections spanning across three high ceiling walls in collaboration with the fantastic Andres Burgos . Andres and I created this short promo video for the song Ecstatic from Anti Venus and are working on a video for Mask for which we had a test shoot day yesterday, here are a couple of out-takes from the shoot.
This is a strictly RSVP only party, send us an email at rsvp@vandanajain.com
Gorgeous night, I can't wait to party with you!
xVandana
Anti Venus BlackBook Exclusive
BlackBook Magazine premiered this amazing write up and exclusive stream of my debut full length ANTI VENUS out tomorrow, well, in a few minutes!
Tweet the premiere tagging @vandamner or share it on Facebook tagging Vandana Jain for your chance win a unique download code to your copy of the entire album!
I hope you love it.
x
Get your free copy of the debut full length ANTI VENUS!
I can't contain my excitement for the launch of ANTI VENUS this tuesday Oct. 29th!
I talked about my obsession for hearing albums in their entirety on the Beautiful Savage feature QnA and have taken this opportunity to give away digital copies with the complete artwork as well as a beautiful short promo video made by the amazing Andres Burgos to the first 50 of you who tweet or share a few words about the album on Facebook or on Twitter, just make sure to tag @Vandamner on twitter and Vandana Jain on facebook. As soon as I receive your tag, you will get a link and a unique download code to your copy of Anti Venus.
I truly appreciate all the support I have been getting from you all, it means that everyday I get to wake up excited to make batter art. Thank you!
X Vandana
Your Tote + My Tote
Hello beebeez! Welcome to my freshly updated website now visible on all your mobile bling, thanks to Joseph Mueller for making this happen, as well as the creative additions!
I want to start off by talking about something I'm crazy mad about, the ANTI VENUS album art created by MYSELF and the lovely and talented MAY LIN LE GOFF. She is exhibiting her new works at Site/109 on the 7th of November, you need to check her out.
Here are the pieces from the album art.

Now let's talk about the doubly mentioned tote in this post. Here's your chance to have your artwork printed on a limited edition ANTI VENUS inspired tote bag! Upload your artwork tagging @Vandamner on twitter OR Vandana Jain on facebook and the most precious piece will be printed along with x VANDANA JAIN and promoted as special merchandize.
Here is some inspiration to get you started.
GET TO WORK NOW.

Enjoy, talk soon.
X Vandana